SSL Certificate for My Website
Great news, we recently rolled out Let's Encrypt certificates to members!
The goal is to provide a free, automatically renewed, basic SSL certificate (a value of $50-150 USD per domain per year) to LinkSky Hosting members, which will increase website, email, cPanel, and Webmail security and help boost search engine ranking, since Google, Bing, etc. favor secure websites.
Alternately, we include, free of charge, end-to-end generation, setup, and installation of SSL certificates purchased directly through LinkSky Support, so our members don't have to deal with the SSL process. We offer 1, 2, and 3 year premium SSL certificates for $49.99, $55.90, and $83.85 respectively per domain.
The main difference between our basic SSL certificates and premium SSL certificates is compatibility. Since Let's Encrypt is a newer certificate authority, some older devices, such as computers running Internet Explorer on Windows XP, etc. are not compatible, but most modern operating systems and Web browsers are compatible.
An SSL certificate was previously rolled out to members as part of our new, included, secure program, so your website should be able to be accessed securely.
To test if your website has an SSL certificate installed, open your Web browser (Chrome, Firefox, Edge, Safari, etc.) and visit:
https://yourdomain.com/ (note: replace yourdomain.com with your actual domain name)
If you see your website, then an SSL certificate is installed, because without an SSL certificate you would not be able to access your website over https.
Note: If your website currently has mixed content (non-HTTPS images, CSS, JavaScript, etc.), the SSL lock will not show in major Web browsers until the URLs are corrected to use HTTPS only (or use relative instead of absolute URLs). Google Chrome's Developer Tools (F12) shows if mixed content exists on the "Security" tab and provides a link to see the non-secure resources that are hardcoded with HTTP, so you or your Web developer can identify and change them to HTTPS (or relative URLs).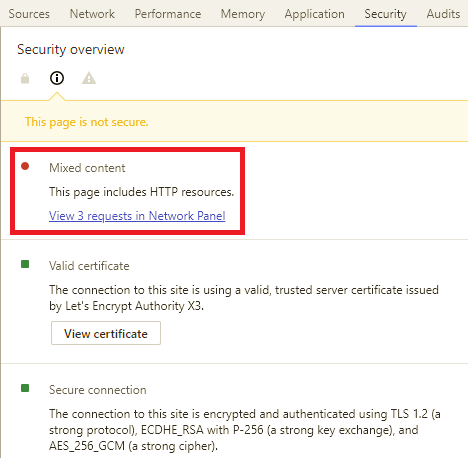 Interested in making your website always secure? See help article, "How Do I Make My Website Always Secure?"
Please let us know if you have any questions or need further help.